Prices, shipping costs and delivery information
The prices stated on the product pages include the statutory value-added tax and other price components.
Delivery countries
We deliver within Germany and the following European countries:
EUROPE 1 – Belgium, Luxembourg, Netherlands, Austria
EUROPE 2 – Denmark, Liechtenstein, Switzerland, Czech Republic
EUROPE 3 – France, Monaco
EUROPE 4 – Italy, Poland, Slovakia, Slovenia, Hungary
EUROPE 5 – Ireland, Portugal, Sweden, Spain
EUROPE 6 – Estonia, Finland, Croatia, Latvia, Lithuania, Norway
EUROPE 7 – Bosnia and Herzegovina, Bulgaria, Greece, Iceland, Romania, Serbia
WEIGHT-BASED SHIPPING COSTS
Our shipping costs are weight based.
PROCESSING AND PACKAGING FEE
In addition, we charge a handling and packaging fee of 15% on top of the weight-based shipping cost.
GERMANY
For Germany DPD CLASSIC shipping we charge shipping costs according to the following weight scales:
less than 5 kg: 9,50 € plus 15% packaging
more than 5 kg, under 10 kg: 12,00 € plus 15% packaging
more than 10 kg, under 20 kg: 15,00 € plus 15% packing
more than 20 kg, under 30 kg: 18,00 € plus 15% packing
Germany DPD Express
Within Germany there is the possibility of DPD Express shipping. In this case we charge an additional express flat rate of €15.00 regardless of weight.
EUROPE
For Europe we charge the shipping costs according to the following weight scales (DPD Classic):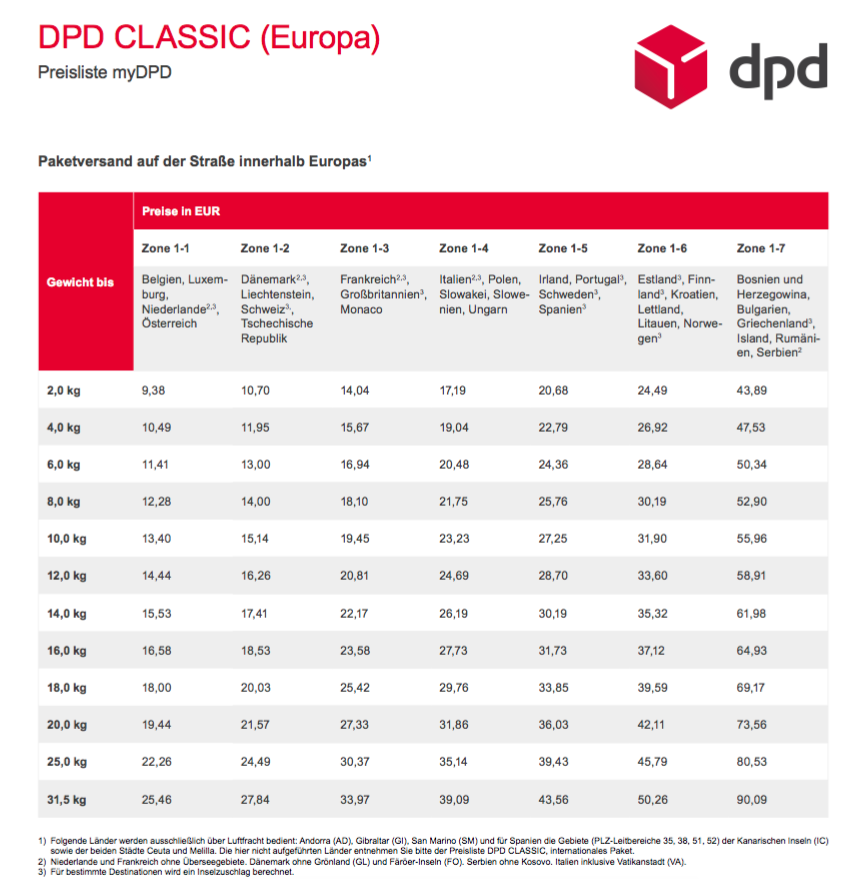 The shipping costs will be clearly communicated to you again in the shopping cart system and on the order page.
The corresponding flat rate shipping fee includes the statutory value added tax. Since the VAT on the flat rate shipping fee is calculated depending on the goods purchased, it may be reduced. This means that the flat rate shipping charge can only be finally calculated during the ordering process. However, it cannot become higher in the process, but only lower in your favour.
Our shipping service provider is DPD.